Free Harmonica Tabs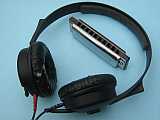 Here are some free harmonica tabs (tab is short for tablature, a simple method for showing which notes to play). Audio is next to each tab, so you can hear the notes while reading them. Much easier to learn this way.
First we show you how to read harmonica tabs.
Harmonica Tune Tabs for Beginners
Try harmonica tabs for Kumbaya, and Scotland the Brave.
Blues Harmonica Tabs
Harmonica Academy has a lot of blues harmonica tab in the lessons. Easier to learn, as techniques for the tabs are explained. Each tab has audio next to it
See how the combined audio and blues tabs work in these lessons.
Beginning blues turnaround tabs
More Tune Tabs
Try the harmonica tabs for Botany Bay, and Hard Times.
Advanced players - try the harmonica tabs for Big Sciota, or Soldiers Joy.
Hip Hop Tabs
Younger players relate more to Hip Hop than to blues. But harmonica still fits.
Too see how, try these harmonica tabs for Hip Hop beats.
Want to know more?
Try this Free 5 part guide
"How to Succeed with Harmonica"
Sign up here to get it
We value your privacy!