Free Harmonica Lessons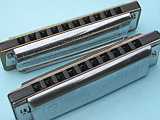 Start here. Play within 5 minutes!
Love blues?
Try the introduction to blues harmonica
Playing blues already?
Do this intermediate blues harmonica lesson
Bending notes confidently?
Try this blues harmonica scale lesson
"frankly just about the only programme that deals with the subject in an organized way"
Learning Tunes
For beginners, the fastest way to progress is to learn tunes.
I teach you a simple harmonica tab in an early lesson.
Then you learn your first tune. It's famous, starts in this lesson, continues in this one.
When you're ready...
for a change from the blues, try this advanced lesson
Then try this lesson for something faster.
These are the first two Junior Year tunes lessons. The Junior year and Senior year lessons are challenging, however you can get to this level!
"I strongly suggest you visit this site, created by one of the best bluegrass harmonica players I've heard."
Harmonica Academy has 40 blues lessons and 40 tunes lessons, from beginners to advanced. The Course at a Glance page shows how they work.
Want to know more?
Try this Free 5 part guide
"How to Succeed with Harmonica"
Sign up here to get it
We value your privacy!