How to Succeed with Harmonica
5. Ongoing Improvement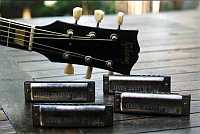 The previous articles focused on beginning players. However once initial learning stages have passed, it is often hard to move to the next level. Peers can be thin on the ground, and are sometimes reluctant to share information. Intermediate players can become stuck as a result.
The Internet has done a lot to change this. A global harmonica community has emerged, connected by forums, email, MySpace and player websites. It is now much easier to find ideas and inspiration.
This article describes how the Internet and other resources can drive ongoing improvement for harmonica players.
The effort to improve needs motivation, which often comes from seeing great harmonica performances. The famous duo Sonny Terry and Brownie McGee toured Australia in the 1970s, and I remember being entranced by their overall sound and Sonny Terry's harmonica playing. The great player Brendan Power was also inspired by the same tour. The Internet brings great performances to your computer screen. Visit the links page to find individual player websites, many with great music.
Improvement usually comes from learning new solos, new tunes, new techniques. Classic recordings are where most answers lie, however learning solos at their original speed is often challenging. The computer helps with this. Software like the "Amazing Slow Downer" slows tracks to any desired speed, while keeping the original pitch. I wish this tool had been available 25 years ago, it would have saved many scratches on my blues vinyl collection.
There are many great harmonica teaching resources now available, which ease the taks of absorbing new playing styles. A good example, is the "Sourcebook of Little Walter/Big Walter Licks for Blues Harmonica" by Tom Ball. Few players actually get around to studying great masters like Little Walter and Big Walter in depth. This book provides the means to do so.
A good way to improve is to record yourself. This used to be an expensive proposition, now excellent free computer based recording packages are available. One of the best known packages is Audacity, instruction for use are here. Initial recordings are often discouraging, however persistance leads to rapid improvement. Also, there is a wonderful community of amateur harmonica recording artists, who share their efforts at a site called Harmonica Boogie. Beginners are very welcome, and a wide range of good backing tracks are provided free of charge.
Another effective way to break new ground as a player is to try a different music style. For example, about half of the lessons on this site teach traditional tunes, which lead to a new world of playing opportunities at festival and session bars around the world. I have followed this path, as a result my playing sounds like this
Finally, a community of players who can answer questions and provide inspiration is a fundamental resource for ongoing improvement. I highly recommend harp-l, the biggest online harmonica group. Archives are available on Google. Click here then search on "harp-l-archives". I visit this group daily.
Hopefully this five part series has provided insight to the harmonica and the learning process. As you can see, the harmonica is my passion. My wish is for you to feel the same way.
Click here for a video tour of the site

Start playing harmonica
From $19.95