Which Harmonica Should I Get?
When I started playing there was one harmonica readily available, the Hohner Marine Band. Choosing your first harmonica back then was easy. Things have changed a lot, harmonica players are now blessed with a wide variety of instruments to choose from.
This article describes the current harmonica range, and advises beginners wanting to know which harmonica to get. Experienced players stuck on one instrument might also like to try some of the newer models.
For learners wanting to know which harmonica to get, then any of the intermediate models shown here will be fine. The budget models are OK as well, however the little extra for the intermediate ones is well spent. Make sure you get a harmonica in the key of C to start with, as most harmonica lesson books will assume you have one.
The harmonicas shown here a dividied into five groups, toy, budget, intermediate, premium and custom. Not every harmonica model is here, just a representative range. Players are often passionate about their chosen brand (as they should be). Here I'll just show what is available. Try as many as you can and make up your own mind.
Toy Harmonicas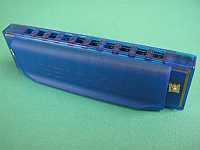 The Hohner Happy Color harmonica is intended for children. It has a plastic body, brass reed plates, is made in China and comes in a variety of colours. It is the cheapest harmonica available (I think), however it is in tune and is surprisingly playable.
Budget Harmonicas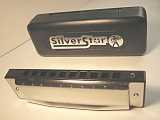 The Hohner Silver Star is made in China and sold worldwide. It is the most common budget harmonica in Australia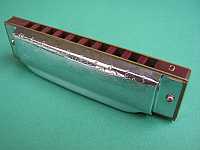 Suzuki make a wide range of harmonicas, from premium to budget ones like the Folkmaster shown here.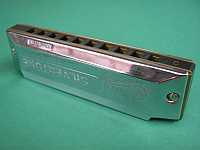 Huang instruments are made in China, and designed by the famous player Cham-Ber Huang. The "Silvertone" shown here is a well known and long established budget instrument.
Intermediate Harmonicas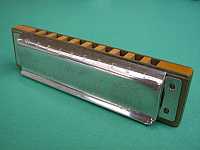 The Hohner Marine Band harmonica is probably the best known 10 hole harmonica. Most of the classic blues harmonica performance were done on the Marine Band, which remains the instrument of choice for many players.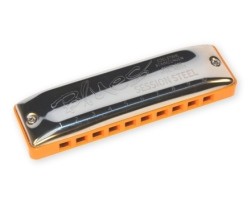 Seydel is a German company which has been making harmonicas since 1847. The Seydel range has been revamped in recent years, with a focus on quality instruments. The Seydel Session Steel is notable for its smooth coverplates and easy playability. Seydel provide a wide range of tuning options for their instruments.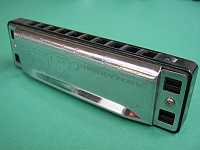 The Lee Oskar is a well known harmonica, made by Tombo in Japan. Named after the famous player Lee Oskar, this was the first harmonica offering replacement reed plates. The Lee Oskar boxes clip together, making an instant harmonica case. Lee Oskar harmonicas are available in a variety of tunings.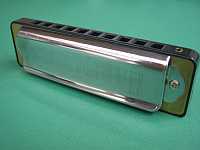 The Suzuki Harpmaster is a relatively new instrument, and is priced lower than most other intermediate harmonicas. However it is a well regarded and well made instrument.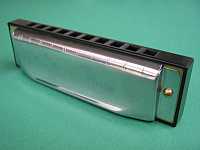 The Hohner Special 20 was introduced in the 1980's and was Hohner's first plastic comb harmonica. It is used by many professional players.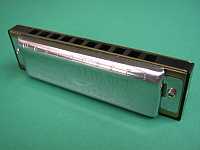 The Hohner Big River is a lower priced intermediate instrument, and is part of the Hohner MS (Modular Series). This means that replacement parts (including reed plates) are available. Many players like the shape of the Big River cover plates.
Premium Harmonicas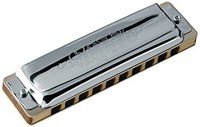 In recent years, harmonica manufacturers have introduced a range of premium models. These more expensive instruments feature higher quality components, and are generally worth the extra money spent. In recent years harmonica designs have favoured a wider space at the back of the cover plates, to increase sound projection. This feature is seen on all the instruments shown here.
The Seydel 1847 features stainless steel reeds, as well as rounded holes in the wooden comb. This is a well made high performance instrument.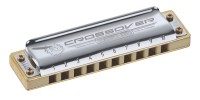 Despite the popularity of the Marine Band, many do not like the nails which attach the covers and reed plates to the wooden comb. The Hohner Crossover retains the calssic Marine Band features, but is held together with screws, and features a bamboo comb to eliminate the swelling common to the regular Marine Band.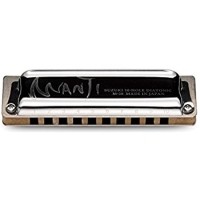 The Suzuki Manji features a composite comb, welded reeds and is a well regarded and powerful instrument.
Custom Harmonicas
A small number of customisers provide a range of generally very high quality instruments. Customisers usually start with stock components (reed plates, combs, cover plates), which are then adjusted to improve performance. The top customisers apply a specific "profile" to each reed, and adjust the reed gaps very carefully. A customiser might spend a day preparing each instrument. The resulting instruments are often much more expensive than stock harmonicas. However custom harmonicas are often noticeably better than their stock counterparts. This reflects the extra time setting them up. This time can never be justified for a factory made instrument.
For many years I have used custom harmonicas prepared by Neil Graham in Australia. Neil's instrumnets provide a rare combination of enormous acoustic volume and very fast response. They are central to my sound. Neil services his instruments, as do most customisers, so a new custom instrument is a long term musical investment.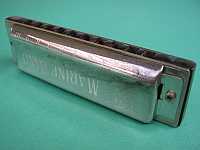 This is Neil's Deluxe Professional Custom Hybrid model, and is the one that I use (mostly). It features an Australian blackwood comb, made to Neil's design, Hohner MeisterKlasse reed plates and Marine Band MS covers.
Here is a recording of me playing one of Neil Graham's Deluxe Professional Custom Hybrid harmonicas. The tune is "George Brabazon's Air Number 2" from my Black Mountain Harmonica CD.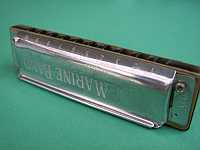 Neil also has a model based on the Hohner Marine Band. The covers are reshaped for greater projection, the reeds extensively modified as outlined above. This is a powerful instrument.